Unicrypt Network Review –Limiting Risk in Uniswap Purchases
July 19, 2020 by CryptoCurrencyBlog.io
3300
Uniswap has been exploding in popularity over the last several months and has caused an influx of new investors to jump into trading cryptocurrency. One issue that has plagued uniswap and especially over the last few weeks is what is known as exit scamming. New coins are being offered, promoted on channels such as twitter, 4chan, and reddit, and then the coin owner is pulling out the liquidity placed in uniswap leaving everyone who didn't sell in time a bag full of worthless tokens.
This is where Unicrypt (UNC) comes in. 
UniCrypt.network is a website with a variety of different DAPPs for uniswap and the crypto community. The site utilizes their erc-20 coin UNC. According to the developer staking will soon be available after several of the applications are live. There are several aspects of the website that are coming soon but two functional areas that intrigued me the most were the POL (Proof of Liquidity) section and the Uniswap Browser.
Uniswap Browser:

For most traders the Uniswap Browser is going to be the biggest initial draw to Unicrypt. On the New Listings tab, as new contracts are uploaded to Uniswap (I imagine via an API but I am not sure) listings are pulled and can be viewed. For holding 100,000 UNC, you have the ability to unlock this feature by connecting your metamask to the website.
After two detailed warnings, you can view new listings as they hit uniswap. Becoming an early buyer is crucial to maximizing profits so being able to see listings come in before they are promoted elsewhere could be a game changer. As I looked through the browser some great features were the ability to see what percentage of the total supply was provided to uniswap, a trust score provided by UNC, and the percentage of liquidity that is locked. Many traders lack the ability to go and read over contracts to see if the funds are locked up and not available to be spent so this service could be extremely useful if adapted by coin creators.
Moving forward I would love to see new features added such as alerts and filters to weed out the trash contracts but overall UNC is off to a good start with their browser.
Pol – Proof of Liquidity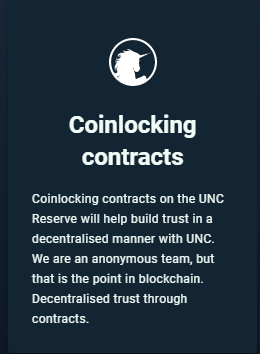 One way new coin owners can do to increase their trust is by providing proof of liquidity to Unicrypt. For a small fee of 0.3% one can lock up the tokens in their contract for a set amount of time such as 6 months, or even do combinations allowing the coin owner to withdrawal 10% every month.
What is great about this feature is that it can reinforce trust in the project by showcasing that the liquidity is locked up and can not be drained (one of the biggest deterrents to uniswap purchasers.)
Everyone wants to get in on the ground floor of a new project and with Unicrypt it can remove some of the fear of getting the rug pulled underneath you and losing your investment.
Unicrypt is off to a great start and should definitely be a coin to keep an eye out in the future.